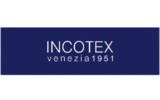 Thanks to Richard who commented on the prior post, and the wonderful folks over at
SF
(
Photo
), it is clear that
Incotex
pants have made it into stores, and in a much larger selection than I anticipated based on my foray to Secaucus.
Philly has added an additional delivery on Monday for the Fall, but there are no current-season Incotex items as of yet (though I know you can still find one or two pairs from the Spring).
Other notables which you may see in store -- wool coats from
Report Collection
, and lots of shoes from
Rocawear
, and some sneakers from
Puma.